Written by Amy Andelson & Emily Meyer

Directed by Jon Chu

Running Time: 1:47

Rated PG-13
for brief strong language.

C+
---
THE OPENING
Step Up 3D was a completely ridiculous movie with some tremendous dancing.
THE STORY
Moose and Camille are just starting their freshman year at NYU, but before they even take their first class, Moose gets involved in a dance battle in Washington Square park. After being chased by the cops, he runs into Luke, a dancer/filmmaker who runs what amounts to a halfway house for other dancers. The Pirates, as they are known, are dedicated dancers of all abilities. Together they are training for the World Dance Battle where the winners get $100,000, which will allow Luke to keep his halfway house running. He meets Natalie, a beautiful dancer who may or may not have a dark side. And on the other end of the tournament is Julien, who was once the leader of the Pirates, but who got kicked out for betting on the tournaments and then throwing the dances. Will Luke and Moose get it in gear to win? Or will they all be left out on the streets?
THE REVIEW
Step Up 3D was an interesting choice for a 3D movie, but I'm thinking dance battle movies might be played out, so why not shoot it in 3D and add that extra element (see the trailer here). The story was just nuts as it starts with Moose taking down the biggest dance battler in the city within a few minutes of arriving. And then, because you can never leave a dance battle in the middle, he is 'attacked' in the bathroom of a club by the rest of the guy's crew and challenged to another battle. Yes, it's as if Freddy Krueger has you cornered in a bathroom but instead of killing you, challenges you to a dance off. It was absurd, especially with how intent the guys were. And the entire movie was like that, where the story was ridiculous, but it was all just bumper for the dance action.

I've never seen the other Step Up movies, but I do remember a couple of years ago when Step Up 2 The Streets was about to hit theaters (or maybe it already had) the dance crew from the movie got into an online dance battle with Miley Cyrus and her M&M crew. They went back and forth with some amazingly choreographed numbers and my favorite one is here: Dance Battle. That was when I got my first glimpse at the majesty that is the dancing of Adam Sevani and my favorite, Madd Chad.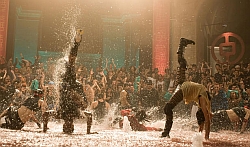 Sevani is one of the best dancers I've ever seen. He's got this grace and ease about him and can seemingly do any kind of dance. In the video above, it's more hip-hop, but in the movie he does some classical dancing and, in the movie's best sequence, he and Alyson Stoner (who plays Camille) so this great 2-minute dance number through the streets of New York, without any edits. The camera follows them down the block as they interact with people and objects and the whole thing was pretty amazing. Sevani is a goofy looking kid with a lot of hair but when he dances, it's impressive. And then there's my main man, the best robot dancer in the world Madd Chad. His sequences in the movie always stand out because he's so much bigger than everyone else and he's got an amazing ability to control his body. Yes, his shtick gets a little old the more you watch it, but if you're ever in a dance battle, he's one to have on your side.

While Moose is the center of the dance part of the film, and has a small little romance story with Camille, the main focus of the story is Luke and Natalie. Luke, who doesn't appear to be that great of a dancer, but is good at motivation and making documentaries, mainly seems to be around for one shot where he's shirtless. An entire theater of girls both held their breath then laughed at their own reactions. Natalie is a good dancer with a lot of energy, but her story isn't what it seems. I thought the Moose/Camille story would have been a better choice for the main love story, but I guess the two of them aren't as camera-pretty as Luke and Natalie.

As I've said before, the dancing in the movie is easily the entire reason to watch. Whether it's them training or going through three different dance battles, there's always something new going on. Add in the 3D which makes some of the dancing in-your-face (and kind of freaky) and you've got a reason to keep your butt in the seats. The movie was shot in 3D, as opposed to digitally changed to 3D, so it looks a lot better. If you can get past the absurdity of the story, the dancing will make you want to battle the first person you run into out on the streets.
THE BOTTOM LINE
So overall, I liked Step Up 3D. It was hard for me to take it even a little bit seriously, but I definitely marked out for the dancing.