Running Time: 1:44
Rated PG-13
for sexual references, crude humor, partial nudity and language

Starring
Breckin Meyer
as Nick Shaffer

Cuba Gooding Jr.
as Owen Templeton

Seth Green
as Duane Cody

Amy Smart
as Tracy Faucet

Rowan Atkinson
as Enrico Pollini

Whoopi Goldberg
as Vera Baker

Lanei Chapman
as Merrill Jennings

Vince Vieluf
as Blaine Cody

Jon Lovitz
as Randy Pear

Kathy Najimy
as Bev Pear

Dave Thomas
as Grisham

John Cleese
as Donald Sinclair
All in all I'd have to say I enjoyed Rat Race. It was non-stop action almost the entire way through, the cast was fun and there were some very funny scenes.

John Cleese is Donald Sinclair, a Las Vegas casino owner. In order to have some very rich people spend a lot of their money at his casino, he has come up with some different types of wagering to keep these rich people interested. From guessing what's inside the chocolate to how much will the hooker charge, to a rat race where 6 groups of people all have a shot at 2 million dollars. Cuba Gooding Jr. is Owen, the disgraced football referee. Seth Green and Vince Vieluf are the Cody brothers, con artist extraordinaires. Whoopi Goldberg and Lanei Chapman are mother and daughter who haven't seen each other in 27 years. Rowan Atkinson is Enrico, the narcoleptic guy who talks funny. Amy Smart is Tracy, the helicopter pilot. Breckin Meyer is the hot shot attorney who has never done anything illegal in his life and is quickly falling for Tracy. And Jon Lovitz and Kathy Najimy are the Pears, a Jewish couple (trust me, that comes into play a lot) with two kids. These 6 teams all must travel from Las Vegas to Silver City, New Mexico (almost 600 miles) and try and claim the big bucks.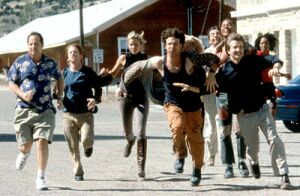 The best thing about Rat Race is that it is well paced. They set up the characters very quickly in the beginning, giving all of them some strange trait or background that comes back into play later on. One of the Cody brothers has a new tongue ring that he put in himself, making it impossible for him to speak clearly. Owen's referee character made a horrible call in the last game making a lot of people lose a lot of money. Enrico falls asleep at the drop of a hat. Every one of them has some strange foible that shapes who they are. After the characters are set up, the race begins in earnest. The great thing about ensemble road trip movies is that you can jump from group to group so that something is always happening. No stupid love story slowing down the movie. No getting bored of one character. After one team gets caught up in a cow, you cut to another guy driving a bus full of Lucy wannabes. It keeps the movie moving at a great pace.
Every cast member was enjoyable in their own way. I'd have to say Rowan Atkinson stood out for me, mainly for his humorous accent and bubbly attitude, even when being chased by the ultimate guest star, Wayne Knight. I'm also a big fan of Seth Green, Jon Lovitz and Amy Smart. But every character was just over the top in their role which kept the movie from bogging down. No one got thoughtful during almost the entire movie. Every move was calculated and cunning and entertaining. Almost every mode of transportation is tried in the movie. They concoct a very interesting way of making sure that the simplest way, airplane, is gotten rid of in a hurry. So from there at various points the groups try helicopters, buses, trains, hot air balloons, horseback, rocket cars, monster trucks, and a couple others. While most of what happens seems almost too perfect, it still all flows together real well. I'd have to say my favorite scenes involved the Pears running into some problems and ending up with a odd choice in cars (I really don't want to give this one away), and Enrico and Wayne Knight trying to deliver a human heart.
There was one problem I had with the film, and that's the ending. I don't want to give away how it ends, but just when you think it's over, it keeps going for a little while longer, and then it sort of cops out at the end. I think the ending could have been stronger and not so much of a love-fest. It felt sort of cheap after the strength of the rest of the movie. It was the only time where it was played more for the heart than for laughs and I didn't think it was the best way to end the movie. But other than that problem, there wasn't much else wrong with the film.
So overall I'd recommend Rat Race. It has a lot of laughs, it keeps a good pace going almost the entire way through, and the cast was fun to watch. The ending leaves something to be desired, but besides that it was a strong comedy worth seeing.
---
For pictures of some of today's hottest celebrities, visit the Gallery.

Got something to say? Say it on the Message Boards. No password needed!

Click on the link for more information on
Screenwriting,
Home Video/DVD or
Film Making.