Running Time: 1:57
Rated PG-13
for some language and sexual content.

Starring
George Clooney
as Danny Ocean

Brad Pitt
as Rusty Ryan

Julia Roberts
as Tess Ocean

Casey Affleck
as Virgil Malloy

Scott Caan
as Turk Malloy

Don Cheadle
as Basher Tarr

Matt Damon
as Linus Caldwell

Andy Garcia
as Harry Benedict

Elliott Gould
as Ruben Tischkoff

Shaobo Qin
as Yen

Bernie Mac
as Frank Catton

Eddie Jemison
as Livingston Dell

Carl Reiner
as Saul Bloom
George Clooney and Brad Pitt lead an all-star cast in the highly-stylized and very cool Ocean's 11.

Danny Ocean (George Clooney) is a liar and a thief who got caught 4 years ago on a job that is never mentioned. The second he gets out of prison, he leaves his New Jersey home state, and heads out to Hollywood where he meets up with his old friend Rusty (Brad Pitt). Rusty is now teaching poker to a bunch of young, Hollywood stars like Topher Grace (That 70's Show), Joshua Jackson (Dawson's Creek), Holly Marie Combs (Charmed), Barry Watson (7th Heaven) and Shane West (Once and Again). He immediately joins up with Ocean, and they hatch a plant to rob three major Las Vegas casinos, all owned by Harry Benedict (Andy Garcia). In order to pull off this daring robbery, they're going to need help, and they call a bunch of old pals together to do the job. Livingston Dell (Eddie Jemison) is the electronics guy. Frank Catton (Bernie Mac) is the guy on the inside. Basher Tarr (Don Cheadle) is the ammunitions guy. Turk & Virgil Malloy (Scott Caan, Casey Affleck) are the drivers. Ruben Tischkoff (Elliott Gould) is the money. Saul Bloom (Carl Reiner) is the set-up guy. Yen (Shaobo Qin) is the acrobat. And Linus Caldwell (Matt Damon) is the young gun pickpocket. Together, they form Ocean's 11. And through planning and expertise, they manage to pull off the job, with only a few problems along the way.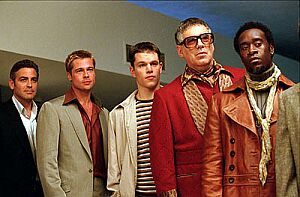 Ocean's 11 was simply, a very cool film. From the top-notch cast, to the stylin' clothing, to the sweet music, to the impeccable directing, this movie was great from top to bottom. First the cast. With Clooney and Pitt leading the charge, you've got two good looking, super-style guys taking charge. Both have a calm and cool air about them and they certainly look the part. From Clooney's dapper ladies man, trying to get back together with his ex-wife Tess (Julia Roberts), to Pitt's always-eating, well-dressed man with the plan. Add in the always slick looking Andy Garcia, and you've got yourself a formidable threesome. I suppose if you don't care for Clooney and Pitt, you might not enjoy the film, but I'm a big fan of both, and these were roles that were tailor made for them. Everyone in the movie was well-dressed. Carl Reiner got to wear a very sweet silk suit while playing his rich arms-dealing character who was the point man on the job. Clooney started off the movie wearing a pressed tuxedo which he was wearing the night he got busted 4 years earlier. Even Elliott Gould's flamboyant money-man Ruben looked good.
Director Steven Soderbergh was a great choice for the film, because he's got that whole cool thing down already. Coming off an unprecendented double Oscar nomination and one win for Best Director, he chose a great follow-up film that allows him to work with a talented and popular cast, and still add in the stylized direction he's now famous for. In the hands of another director, this movie could have turned out cheesy and over-the-top, but in his hands it was an almost flawless delivery. His choice of music was in line with the filming, adding another layer of cool to an already sweet film.
The only problem I had with the movie was that some things went unexplained, and at times moved at too fast a pace. I realize that this was due to time constraints, with the movie coming in at just under two hours. But there wasn't a lot of time to get to know the characters and their backgrounds. We met them and they did their thing without much questioning. They all got along extremely well but there wasn't much shown in the way of friendship or knowledge of each other and their pasts. I thought it odd that Caan and Affleck were used in so many different roles throughout the film, and were never noticed playing security guys, waiters, drivers, bodyguards and many other roles. There was also little reason to dislike Garcia's casino owner, since he didn't really do anything wrong, and only attacked people when attacked himself. His character wasn't really all that bad, but just up against a more likeable Clooney and Pitt combination. And I wish Julia Roberts had been used a little more. Her character was the reason for everything that happened, but on screen she didn't add much to the surroundings. But little things like that can be forgiven in a movie this entertaining.
The bottom line is I had a good time watching Ocean's 11. I laughed, I cheered, and I wanted these guys to succeed. This seemed like the kind of movie where Soderbergh and Clooney just got together one night and decided they wanted to remake an old Rat Pack classic. So they called up a few talented friends, got together and shot the movie. It was like watching old friends on screen doing what they do best. Definitely one of the best films of the year.
---
For pictures of today's hottest celebrities, visit the Gallery.

Got something to say? Say it on the Message Boards. No password needed!

Click on the link for more information on
Screenwriting,
Home Video/DVD or
Film Making.