Running Time: 1:29
Rated R
for strong crude sexual content and humor, language and some drug content.

Starring
Chyler Leigh
as Janey Briggs

Jaime Pressly
as Priscilla

Deon Richmond
as Malik

Eric Jungmann
as Ricky

Lacey Chabert
as Amanda Becker

Chris Evans
as Jake Wyler

Sam Huntington
as Ox

Mia Kirshner
as Catherine Wyler

Samm Levine
as Bruce

Randy Quaid
as Mr. Briggs

Cerina Vincent
as Areola
One of the raunchiest, nastiest, grossest films of the year, Not Another Teen Movie still had enough laughs to be fun.

Starring a relative bunch of unknowns, Not Another Teen Movie skewers teen movies from the 80's, 90's and today. Everything from The Breakfast Club to Cruel Intentions to She's All That get the lampoon treatment. The 'plot' as it was, revolves around the popular jock Jake Wyler (Chris Evans) betting one of his friends that he can get the ugliest girl in school (Chyler Leigh) to go to the prom with him and become prom queen. The ugliest girl in school of course is ugly because she wears glasses, has a ponytail and *horrors* has paint on her overalls. Also included in the cast are the bad attitude cheerleaders (Jaime Pressley) who helps to send up movies like Jawbreakers and Bring It On, the fat football player who has a concussion count listed on the scoreboard, sending up Varsity Blues where the exact same actor played essentially the same character, right down to having a pig with him. There's the token black guy who stands around saying things like 'Bling Bling' and 'That is whack!'. There's the sister of the popular jock (Mia Kirshner) who in return for helping him win the ugly girl, wants to sleep with him (a la Cruel Intentions). Then there are the 3 young male virgins who make a pact (every other week) to lose their virginity by the end of something or other. They are exact take-offs of characters from The Breakfast Club, including one scene with the principal from that movie.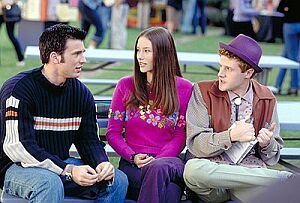 We've hit a time in comedies where normal just doesn't cut it anymore. Every gross-out film needs to outdo what their predecessor did. I thought we finally had hit rock bottom with the amazingly awful Freddy Got Fingered, but there were a couple of scenes in Not Another Teen Movie that go even further. I don't recall seeing a comedy that included brother-sister incest, or a father that called his daughter 'pumpkin breasts' or literal toilet humor. The toilet scene was arguably the nastiest scene this side of Trainspotting's famous toilet scene. It was one of those scenes where everyone in the theater had to hide their eyes for a second and take in what they just saw. Sort of like a car wreck where you don't want to look but you have to. And unlike a car wreck you could actually laugh at what you were seeing. And yet, unlike a certain Tom Green masturbating a farm animal, it wasn't so nasty that it left the realm of humor and went into the realm of disturbing.
The send-ups of teen movies were many. During the movie you could hear people whispering to their friends (myself included) every time they recognized a parody. Some of them were obvious (The Breakfast Club, Cruel Intentions) and some were quick passing jokes that if you were talking to your friend, you missed (like I did with Better Off Dead). One of the more interesting ones was a send-up of the Jennifer Love Hewitt starrer Can't Hardly Wait, which had Jennifer's co-star from Party of 5, Lacey Chabert, playing Jennifer's role as the girl no one could touch, but the geekiest guy in school really wanted. Of course her response to his letter of love is one most geeks could only dream of, and in fact probably do. I also enjoyed the take off of 10 Things I Hate About You where Jake sings a song about Janey that has her name in it, which of course leads to him singing Aerosmith's Janey's Got a Gun. Everyone runs away screaming and Janey is run down by the campus cops and blasted by a tazer gun. There were also some nice cameo's in the film, including Save the Last Dance's Sean Patrick Thomas, Melissa Joan Hart and of course the queen of the 80's comedy, Molly Ringwald.
So overall, Not Another Teen Movie isn't going to win any awards (although I believe a few reviewers has it in the running for worst film of the year, which I give to Freddy Got Fingered). But it was still fairly funny if you're into teen movies or gross-out comedies. It's something at least worth renting and watching with your friends.
---
For pictures of Lacey Chabert and today's hottest celebrities, visit the Gallery.