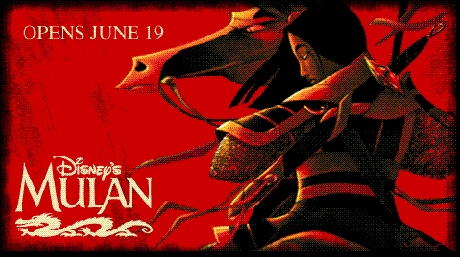 A-
Directed by Tony Bancroft and Barry Cook
Running Time: 1:28
---
Disney comes through with yet another animated masterpiece, and this one goes by the name Mulan. Mulan (voiced by Ming-Na Wen, signing voice of Lea Salonga) is a young girl in ancient China. When the Huns start attacking the country, the Emperor orders one member of every family to join the Chinese Army and defend the country. The one member must be a man, but in Mulan's family, the only male is her injured father. Not wanting to allow her father to die, Mulan dresses like a man, and escapes into the night to join the war. To protect her, the ancient elders of her family ask the great Stone Dragon to watch over her. Unfortunately, the great Stone Dragon is destroyed by the little tiny dragon Mushu (Eddie Murphy). So with Mushu and a small cricket by her side, Mulan heads off to help destroy the Huns.

I think we can all guess what happens. Mulan, although a woman, manages to save the day. The plot line isn't really a surprise when you break it down. And the animation is, by now, expected to be great, and Mulan certainly lives up to the great Disney tradition. It's the story and the feeling you get that makes this movie so wonderful. Disney went through a lot to make sure it's depiction of ancient China was accurate. From the decorations on the walls, to the matchmakers, to the great honor in family, Disney manages to show what the country of China was like, and in many ways, still is today. Following the Disney tradition, there is a strong female character, this time taking lead. There are the over the top bad guys, and of course, the comic relief. Eddie Murphy was just down right hilarious in this movie. I wish they had showed more of him. The songs were sort of a change of pace, with Matthew Wilder and Jerry Goldsmith doing the honors, and not the venerable Alan Menken. The music was good, but the lyrics in some of the songs were weak.

The reason I feel Mulan was better than recent Disney fare like Hercules and The Hunchback of Notre Dame is because it had a much more lively feel to it. Hercules was very dark, animation-wise. Everything was centered around the color blue, so it didn't feel alive. And The Hunchback of Notre Dame was a more adult story, and some of the scenes were very dark and broody. Mulan took a simple plot, put it in ancient China, and made it very colorful and fun to watch. It was light, and "Disney" enough for kids to enjoy, while still being adult enough for the parents to enjoy.

Overall, I'd say Mulan is definitely one to watch. Disney animation has done it again.
---