Running Time: 2:10
Rated PG-13
for action violence, some nudity and brief sex-related dialogue.

Starring
Heath Ledger as
William Thatcher

Rufus Sewell as
Count Adhemar

Shannyn Sossamon as
Jocelyn

Mark Addy as
Roland

Alan Tudyk as
Wat

Paul Bettany as
Chaucer

Laura Fraser as
Kate
Who would have thought a movie about jousting would be good? While the love story held the movie back, A Knight's Tale was a fun movie filled with a lot of breaking wood and some good music.

Heath Ledger stars as William Thatcher, a peasant boy who dreams of becoming a knight. One day during a jousting tournament, his master dies and young William decides to ride the final joust for him without anyone knowing. So along with his friends Roland (Mark Addy) and Wat (Alan Tudyk), William manages to trick the nobles and win the event. But now William has a feel for the joust, and decides to try and do it full time. But in order to do so, he'll have to become a nobleman himself, and as luck would have it, they run into a naked Geoffrey Chaucer (Paul Bettany) who helps William forge documents to become Sir Ulrich von Lichtenstein. William soon becomes the top jouster in Europe. But of course there is trouble. First he falls in love with Jocelyn (Shannyn Sossamon), and then he runs afoul of the greatest jouster there is, Count Adhemar (Rufus Sewell). But along with his merry men, William manages to stay afloat, stick to his guns, and realize his dreams.

The jousting action in A Knight's Tale was actually a lot of fun. I had my doubts about it, mainly because I didn't understand the rules, but once that was explained early in the movie, I had a good time. The story line isn't very original. Boy from the other side of the tracks wants to be something better. Along with friends he lies and cheats his way into the upper class. He falls for a beautiful princess. He also runs into a bad guy who always dresses in black, who wants nothing more than to tear the young man down. But in the end he triumphs over evil and wins the heart of the girl. It's a story we've seen hundreds of times over. What makes this different is that it takes place in medieval times, it's centered around jousting, and the music happens to be good old fashioned rock and roll. It's kind of odd watching a bunch of noble people dancing to traditional music from that time period, all of a sudden start dancing to "Golden Years" by David Bowie. Early in the movie you hear "We Will Rock You" by Queen, and at the end of the movie some AC/DC. It just gave the movie a different feel, which I thought worked well.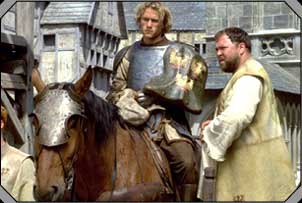 The other big draw to this film is obviously the burgeoning star power of Heath Ledger. His career path is fairly impressive, having gone from a teen comedy (10 Things I Hate About You), to a Mel Gibson big time summer period piece (The Patriot), to starring in your own big time summer period piece, all in the span of only a couple years. He's got the looks, he's got the charm, and he appears to have the acting chops to make it pretty big in the business. The success or failure of this movie will go a long way to seeing how long he'll be around. My two favorite characters were Wat and Chaucer. Wat with his flaming red hair and short temper, ready to give pain to anyone and everyone. Chaucer with his ability to become the Don King of jousting. The women were of course beautiful, especially Kate who came aboard as a blacksmith to help William with his armour.
There were downsides to the movie. My biggest problem was the love story between William and Jocelyn. Even accepting the love at first site idea, the rest of their relationship seemed forced. Kind of like the writer and director Brian Helgeland was thinking that a movie totally about jousting couldn't carry an entire movie, so let's throw in a love story to add some emotion. But with the movie already coming in at a lengthy 2+ hours, the love story just made the time between the jousts seem longer. I liked the flashbacks that were used to show a young William in his early quest to become a knight, and I think that story should have been used more to add emotion to the movie. I'm not saying there shouldn't have been a love story in the movie, I just don't feel it should have played such a big role in it. The movie was about William and his wanting to 'change the stars' and it should have focused more on what it took for him to get where he is today, rather than on falling in love with a princess.
But in the end, A Knight's Tale was a fun movie. The jousting action was a lot of fun to watch, and the camaraderie between William and his friends had a lot of heart. The story got bogged down at times with the love story, but overall the movie was a success.
For pictures of today's hottest celebrities, visit the Gallery.
Got something to say? Say it on the Message Boards. No password needed!
Click on the link for more information on
Screenwriting,
Home Video/DVD,
Film Making,
SciFi Movies,
Magic, or
Comic Books.