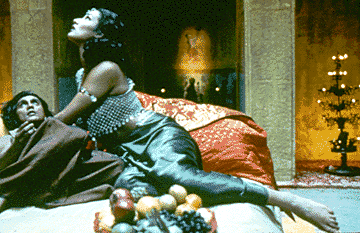 The Kama Sutra of Vatsyayana has long been a precious text for students of Ancient India, for the many clues it holds to the social customs and morality of its period. Written around 300 AD, during the so-called Gupta period ("The Classical Age of India"), the book is known to Westerners mostly as an instruction manual for acrobatic sex. This is partly because most translations excerpt only a portion of one chapter out of 35, the famous index of sexual positions


Kama Sutra brings the legends to life as it follows the fortunes of Maya (Indira Varma) and Tara (Sarita Choudury) through a pivotal period of 16th century Indian history. Tara is a princess, Maya her servant. Raised together as childhood friends and rivals, each in different ways uses the teachings of the Kama Sutra, the 4th century Indian treatise on love and sexuality, as a source of inspiration and enlightenment in a high-stakes romantic chess game. When Maya finally achieves the equality with Tara she has always desired, the price that must be paid is mythic in its finality.

All that was taken from the Kama Sutra movie web page. All I knew about this film going in, was that there was a lot of naked people. A friend of mine had actually worked on the film over in India, and every so often he would call me and tell me what was going on. The movie is very rich and vibrant with the colors and the scenery. It's a very moving story about jealousy, and love. One woman a Princess, the other a servant, but both beautiful. One who seemingly has everything, but still feels like she lives in the shadows. Two men, one a King the other an artist. Both love the same woman, but only one can have her heart. I really didn't think I'd like this movie, but I did. It's not your run-of-the-mill Hollywood film, but these days that's a good thing. It makes you think about why you love, and how you can love the person you're with even more. Definitely something to watch with the one you love.
---