Running Time: 1:26
Rated PG
for language and crude humor.

Starring
Eddie Murphy as
Dr. John Dolittle

Kristen Wilson as
Lisa Dolittle

Raven-Symone as
Charisse Dolittle

Kyla Pratt as
Maya Dolittle

Lil' Zane as
Eric

Kevin Pollak as
Jack Riley

Jeffrey Jones as
Joseph Potter

and the voices of
Steve Zahn
Norm Macdonald
Lisa Kudrow
Phil Proctor
Frankie Muniz
Mandy Moore
Michael Rapaport
Andy Dick
Bob Odenkirk
Jamie Kennedy
David Cross
Jacob Vargas

At times slow, at times funny, Dr. Dolittle 2 was much like the first one. Kids will love the low class humor, adults will enjoy Eddie Murphy.

Dr. Dolittle is now a world famous doctor. He travels the world talking to animals, but this also puts a damper on his family life. His children are growing up, and he's not around to watch them. His wife feels left out at times. But he has his calling. In this movie he is called upon by the animal kingdom to save the forest from loggers. To do so, he must help a circus bear go back to the wild, and mate with the last of his species. If he can't, the forest goes to the loggers. But convincing the circus bear to give up his life of luxury and sleep in the dirt for six months a year, isn't as easy as it sounds.

The movie is fairly straight forward. Some talking animal jokes, a throw away plot, and a tie in with his family life. It had some funny moments with the "mafia" animals and the bear adjusting to life outside the circus. It also had some down time and wasn't funny throughout. The scenes with Dolittle's family were kind of slow, although the revelation with his older daughter was interesting, and I can easily see another sequel (although unless Eddie Murphy decides to re-up for another run, this sequel will end up straight to video).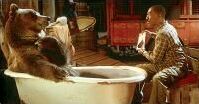 The voices are always the key in this kind of movie, and most of them worked. I didn't like Lisa Kudrow as Ava the bear, for some reason it just didn't sound right. But Steve Zahn as Archie was very funny, as was Michael Rapaport as the raccoon. I also loved Jacob Vargas as the voice of the chameleon who couldn't change colors. The human part of the cast was OK, and not really important. Eddie Murphy was in PG mode, so he couldn't let loose with his famous word play, but he was good as the father to his kids and the animals. Raven-Symone playing his older daughter was the only other human with a lot of screen time. Her story line was typical 16 year old thinking her father wasn't cool, but at the end they bonded and that's always nice.
So there's not much to say about Dr. Dolittle 2. I think everyone knows what to expect when they go see it. It wasn't funny the entire way through, but it still had enough humor to make it worthwhile.
For pictures of today's hottest celebrities, visit the Gallery.
Got something to say? Say it on the Message Boards. No password needed!
Click on the link for more information on
Screenwriting,
Home Video/DVD,
Film Making,
Magic, or
Comic Books.