Starring
Steve Martin
as Peter Sanderson

Queen Latifah
as Charlene Morton

Eugene Levy
as Howie Rosenthal

Joan Plowright
as Mrs. Arness

Jean Smart
as Kate Sanderson

Kimberly J. Brown
as Sarah Sanderson

Angus T. Jones
as Georgey Sanderson

Missi Pyle
as Ashley

Michael Rosenbaum
as Todd Gendler

Betty White
as Mrs. Kline

Posters

Pirates of The Caribbean

Haunted Mansion
THE OPENING
A tired comedy with few high points, Bringing Down the House is one of those movies that would be better off being seen on Saturday afternoon television a few years from now.
THE STORY
Peter Sanderson (Steve Martin) is a tax attorney. Separated from his wife, he meets a woman in a chat room and believing she is a skinny blond woman, he sets up a date with her. Of course it turns out to be a large black woman named Charlene (Queen Latifah). She needs help with a criminal matter and she asks Peter to help her. When he refuses, she bullies her way into his life and soon they both realize how much they can learn from each other. She helps him deal with his kids and his wife, while he helps her with her legal problems.
THE REVIEW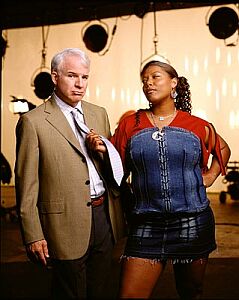 I realized this morning that it had been two months since I'd seen a movie in a theater in this country. While in India I saw a couple in the theaters, but all the movies in the theaters over there are months old. So this was the first new release I had seen in a couple of months. I didn't think much of it from the previews, but after the blockbuster opening weekend I thought maybe I should give it a shot, to make sure I wasn't missing anything. Well, I was right, I wasn't missing anything. The comedy wasn't very original and dealt basically with white people and black people not getting along. There were a few funny scenes, such as the big fight scene with Queen Latifah and Missi Pyle (playing Steve Martin's sister-in-law), and parts of the scene with Steve Martin going into the club at the end. For the most part however, the writing was old and tired. Nothing very original at all.
Steve Martin was at his wacky best, trying to make up for the poor script, and Queen Latifah held her own against a comedy legend. Her stock has certainly shot up in the last few months. And the always funny Eugene Levy was a delight every time he was on screen. The rest of the cast was decent enough, but it was the main stars that obviously attracted the most attention. If only they had a decent script to work with. Making the same old racial jokes just wasn't enough for this film. I think I had a better time watching the previews.
THE BOTTOM LINE
So overall, I would say save Bringing Down the House for a rental a few years from now, or wait until someone like TBS picks it up and broadcasts it a dozen times over the span of 2 weeks, and watch it in pieces. Otherwise, there's not enough laughs to make it worth spending your hard earned cash.
---
Got something to say? Say it on the Message Boards. No password needed!