Running Time: 1:34
Rated PG
for action violence.

Starring
Michael J. Fox
as the voice of
Milo James Thatch

Cree Summer
as the voice of
Princess Kidagakash "Princess Kida"

James Garner
as the voice of
Commander Lyle T. Rourke

Jim Varney
as the voice of
Jebidiah Allardyce "Cookie" Farnsworth

Corey Burton
as the voice of
Gaetan Moliere ("The Mole")

Claudia Christian
as the voice of
Helga Sinclair

John Mahoney
as the voice of
Preston B. Whitmore

Phil Morris
as the voice of
Dr. Joshua Sweet

Leonard Nimoy
as the voice of
Kashekim Nedakh "King of Atlantis"

Don Novello
as the voice of
Vincenzo "Vinny" Santorini

Jacqueline Obradors
as the voice of
Audrey Ramirez

Florence Stanley
as the voice of
Wilhelmina Bertha Packard

David Ogden Stiers
as the voice of
Fenton Q. Harcourt
Atlantis was a little different from past Disney films, and a lot different from other animated films out these days, but it was still a fun adventure and a good time.

Centuries ago Atlantis was a thriving metropolis full of technological advances not seen in today's world. But one night during a great storm, the city was buried under the ocean, and thought to be lost forever. Michael J. Fox is the voice of Milo Thatch, a kid who has spent his whole life searching for the lost city of Atlantis. To him it's not a legend or a myth, it's reality. He just needs to find someone that believes him. A friend of his grandfather steps up for the cause, and funds a trip to find the lost city. But the crew has ideas other than just discovery. They want to find the legendary Heart of Atlantis. No one knows what it is, whether it's a large diamond, or some sort of power source. With an odd mix of characters, Milo leads a team to the city of Atlantis, and finds not ruins of a once great city, but an underwater land full of people. They have been alive for thousands of years, destined to live out their existence without being found. When the crew turns against Milo and the Atlantians, Milo and Princess Kida must save the Heart or else an entire civilization will perish.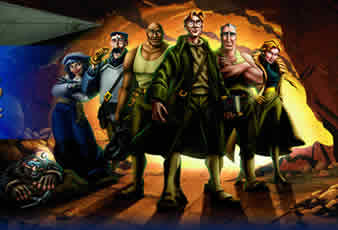 What I found myself thinking as I was watching Atlantis was how quaint the animation looked. After just seeing a preview for the new Disney/Pixar collaboration Monsters Inc., and of course after having seen the smash hit Shrek, traditional hand-drawn animation looks kind of old. Which is not to say it's still not incredible what animators can do by hand, but it just seems old fashioned and retro. I don't think the time has come where hand-drawn animation will go away completely because even just two years ago a movie like Tarzan can make the screen come alive. But with Atlantis there was something missing.
The movie was darker than most Disney films. The story had a lot of violence with guns blazing, and even a character who smoked constantly, which may explain why this Disney animated offering had a PG rating. I'm not sure I fully understood the entire story with the Heart of Atlantis, and what it represented, but the images were very dark and blue, which gives the movie a cold sort of look and feel to it. It may be animation, but this isn't a movie directed towards kids. And the animation itself looked rather flat compared to past Disney films. There wasn't a vibrancy or liveliness to the background as there has been before. It kind of felt like it wasn't totally completed when it was released.
All that being said, there was still a lot fun action and adventure to be had. The key to a good animated film rests a lot on the characters and the voices going well together. I thought in particular the supporting characters and voices were a lot of fun, especially Don Novello as the voice of Vincenzo "Vinny" Santorini the demolitions expert, Jim Varney as the voice of Jebidiah Allardyce "Cookie" Farnsworth the cook and Corey Burton as the voice of The Mole the digging expert. Michael J. Fox has always had a good animated voice, and I especially liked hearing Leonard Nimoy as the King of Atlantis. The characters had that old Disney human look that is always cute, if not realistic.
So overall Atlantis was a fun movie, if not the best of Disney animation. The animation looked flat at times, and the overall feel to the movie was darker than past films. But it still had a lot of excitement and adventure, and is worth seeing.
For pictures of today's hottest celebrities, visit the Gallery.
Got something to say? Say it on the Message Boards. No password needed!
Click on the link for more information on
Screenwriting,
Home Video/DVD,
Film Making,
SciFi Movies,
Magic, or
Comic Books.